3:00 am Friday Morning- I remade all the maps down below with updated information. My email box is empty. I'm going to bed. I'll try to be up as soon as possible in the morning. Ranger Al is starting his day at 5:30am. So I'll have some good info to report when I wake up and noon. :) ok, I'll get up early. See you tomorrow.
1:15 am Friday Morning- Weather conditions- Wind is blowing SW at 20 MPH. 60 degrees, humidity 50. The following map is from 5:00 pm today. Thanks to the Forest Service for the info.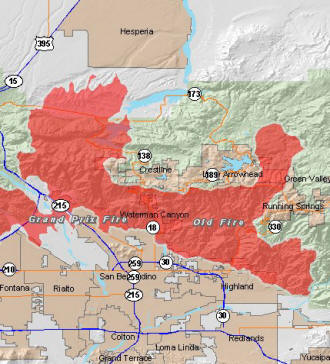 1:00 am Friday Morning- Just checked the stats for today. 459,985 Hits, 48,113 Page Views. Wow! It looks like people really do look at this site. I thought for a while everyone just emailed me. Glad to see it. No wonder the site ran so slow this morning.
Big Bear Lake- Fire looks like it is coming. Ranger Al need to spend most of his time in the lower communities. If you know anyone that is still in Big Bear, please have them contact me so I can offer the same detailed information there as I'm trying to do for the other areas.
12:30 Early Friday Morning- Just finished my emails. Whhheeewww. 506 replies today. Hopefully I'm done for the night, so I can focus on updating the site.
10:00pm Thursday -I've heard that the gas station in Rim Forest will be open with generators Tomorrow from about 5-6 different sources. If this is true it will be a blessing for Ranger Al. Thank you to all those who emailed me about donating some gasoline. I've replied to about 394 of your emails so far since 10 this morning. I still have about 85 in my inbox. I am going to take a quick break from that for a while and call my wife and kids. I'll be updating some maps and pictures on the site soon. Thank you for your great comments, that is what I am running on now.
9:00pm Thursday - Fire is in the forest heading toward Lucerne Valley as well as around parts of Running Springs. If the weather stays cool and foggy, we may be able to stop it before it grows wild again. Good news. Supposed to rain tomorrow.
7:30pm Thursday - I just heard on the radio that no homes were lost in Cedar Pines Park. It was even one of the biggest stations in Southern California. This is absolutely untrue. The home listed below did burn down. Ranger Al gathered the addresses 1st hand.
6:20pm Thursday - Fire is being fought at the bottom of Running Springs School Rd near Seymour Rd.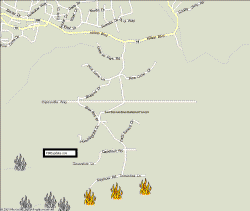 I cannot give you information on specific residences in the Cedar Glen Burn Zone. There are so many homes burnt that wasn't able to tell what address was what. Please read below for the information on the houses I did find still standing. Do not email me and ask about other houses in this area. If your house is North of the Dam you should be safe. If your house is off of hook creek before Deep creek camp road then it has a good chance of still standing.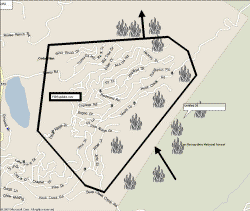 Alot of questions about the CPP area. So I made a map real quick to show where the houses burned. Click on the map for a closer look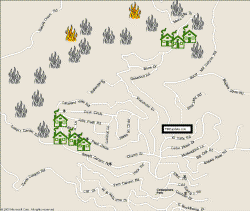 6:00pm Thursday- Yes it is true that the fire is creeping up deep creek behind North Running Springs. It is moving slowly because of the weather.
5:20pm Thursday- Hot spots in Running Springs. They are carving fire breaks. The heavy fog has made it really hard to travel and see the fire. But the fog helps slow down the fire too. Fire that went through Cedar Glen is still heading North. May miss Big Bear. I haven't had a chance to update my maps yet, too many emails but I will find time tonight.
4:00 pm Thursday- I am getting really overwhelmed. I have 300 new messages in my email box and have replied to over 250 so far today. My phone is ringing off the hook. Please read this site first before you email. I am trying to get to as many emails as possible. Be patient.
Edison reports it could be a week before electricity is back on. Ranger Al is in need of Gasoline for his generators and his vehicles. If Anyone has any available on the mountain please contact me. His supply will only last a couple more days. I'm a little frustrated with the fact that they let media up and down the mountain and have free roam and Ranger Al has to avoid being kicked off the mountain. I have been turned down twice to go up the mountain to give Ranger Al a digital camera and some supplies. If there are any firemen or police that can help me. I would like to keep this website going. The networks aren't able to give all the detailed information that I know the evacuees want.
Also please help get the word out. Many evacuees think that their only resource is the TV news. If you like what you see here, help others see it and contact the larger media and let them know about this site.
Sorry about the rant, but I am getting very overwhelmed. I hope this is helping everyone. OK, back to the emails. Luckily my office is behind a restaurant so they have kept me fed. :)
3:45 pm Thursday- Cedar Pines Park Mozumdar Addresses from 729-829 not including 829 have burnt. The temple survived but the outbuildings didn't. Muzumdar and Sandhill area- still too hot to tell. Still some hotspots. I'll try to get back in.
Top of Crestline- West of Catholic Church on Valley View. 22664 and 22680 and the house in between those houses and one across the street (i couldn't see a number) and 22671 have all burnt.
2:15 pm Thursday- Cedar Glen. Visited. Looks as if only the area past the Forest Lawn Boy Scout Camp Burned. The following address's didn't burn. 29686, 29682, 29676, 29656. There was also a big grey house near 29656 that didn't burn but I couldn't see an address. Most other houses I saw did burn.
3 tractors actively digging a fire break by Northshore Camp Ground
Things are looking good for the whole area.
1:30 pm Thursday- Lake Arrowhead- Fire has moved past the cedar glen area and into the forest. North Shore homes look safe for now.
1:00 pm Thursday- K, had to spend my morning with server issues. Sorry, thanks for your support! Here is some info:
Rim Forest: Addresses that have been confirmed by Ranger Al as being Burned: Hwy 18 addresses 26262, 26272, 26276, 26288. there may be another house in that area. Its hard to pick out the houses in the rubble. Cable Place is gone, Alpine and Trust Businesses are gone. Small part of the lumber yard.
Cedar Pines Park: Housed burned on Peak Circle. 21411 is OK and 21543 is OK, but the 3 houses in between those burned. Also 1 house across the street burned. I couldn't tell the address. The Big White House on Sawpit Canyon that "The Hand" movie was filmed at was burned.
Cliffhanger Area: Cliffhanger is OK but lots of burning around it and damage to outside of building.
11:00 am Thursday Morning- Sorry there hasn't been an update for a while. I've been having server problems. Donations to expand the network are appreciated. Fire Strike Teams have been seen leaving Crestline and heading for Lake Arrowhead which means that Fires near the Cedar Pines Park area are under control.
Lake Arrowhead- Fire has burned back side of Cedar Glen area. Around Hook Creek Rd, 3 miles east of the "malt shop" Other homes in the area are safe. Unless your house was near Hook Creek, your house has a good chance of being safe. Houses on the North Shore are not burned for now.
Crestline- Still very safe, Fog covers the area and is keeping everything damp
Cedar Pines Park- Housed burned on Peak Circle. 21411 is OK and 21543 is OK, but the 3 houses in between those burned. Also 1 house across the street burned. I couldn't tell the address. The Big White House on Sawpit Canyon that "The Hand" movie was filmed at was burned.