10:30pm, Tuesday- The Western Part of the Fire has turned North and is heading for the Hesperia Area. Summit Valley, Telephone Canyon & Las Flores areas are in danger.
Eastern Part of the Fire has continued to travel. Sky Forest Area has lost some structures
Parts of Santa's Village have burned.
The NBC News Van has been destroyed leaving reporter Chuck Henry and Camera Man without vehicle. Full Story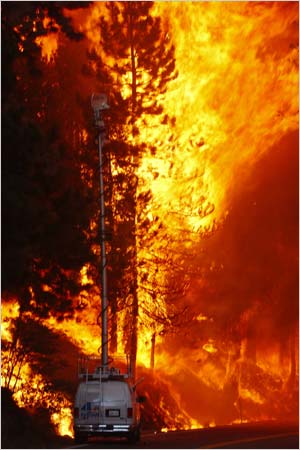 12pm, Tuesday- West of Strawberry Peak is burning. Structures in Rim forest are burning. Apache and Blackfoot Trails in Rim forest- 10 homes burned. Charter Cable store is in question.
Drop planes are actively dropping all over the mountain.
5am, Tuesday- Firefighters are desperately trying to defend Rim of the World High School.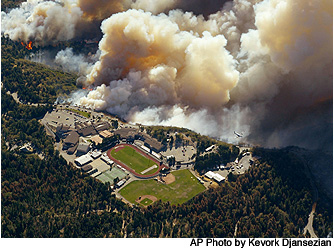 10pm, Monday- Fire jumps Red Rock Wall and begins to actively burn North of Hwy 18.
Fire is still about 1 mile south of Rim high school.
Monument Peak area is actively burning while as it heads over the hill and is seen by Hesperia Residents.
The fire is actively burning all along Devils Canyon Road but no houses burnt so far as far as we could tell.
Fire has jumped into the Pinecrest- Church of Scientology area.