Mountain Residents can pick up their mail at 195 Del Rosa in San Bernardino!
That is at the SB International Airport near the shelter. Pick it up from 11am-6pm through 11/7/03
8:00 pm Friday - I'm answering emails as fast as I can, please be patient.
7:00 pm Friday - Fires in Running Springs are looking positive. Not out but being held back. Super Foggy.
Edison is fine with letting people back into Crestline area in 4 days. But they are not the final authority.
Drove up from Twin Peaks to Rim forest along Bear Springs Road. Everything looked good along the road.
Report on the Cedar Glen Area. Wow, what a job. I'll try to have more later. Very Dangerous. Heavy Ash falling. Trees down. Findings below.
Not Burned
Drove up Lakeview up and around the loop
Every house
Lilac
Everything before and including 266 & 265 and a chevy van that hasn't moved in a long time in front of a burned out house.
Balsam
240 Z Car is OK (4jxw036) in front of a burnt house
213
179 Fern Ln
Glen Avon
Every house
Craghill Dr. Long North/South Part
Every house
Craghill Dr. Windy Part
Road closed. trees down looks burnt up the road
Lake Brook/Hemlock Area
Every house
Pine Dr - until pavement ends
Every house
Drove in Hook Creek Last good house was 29624. First burnt home was at 34° 15.21 N, 117° 9.42 W. Everything to the East is burned as far as we could see from Pine ridge
Turned onto Pine ridge
Everything Gone
Turned onto Acacia
524
White Oldsmobile (4chn553)
Little bear (I think)
29643 yellow
29637 red
Mecedes OK (4bhf441)
Little bear circle
29543 and the house across from it
29542
Elder
563
560
601
One house west of 601
Box Dr.
Last house on street stands. 1 of 5 cars survived GPS- 34° 15.71 N, 117° 9.39 W.
Cypress
Gold Jeep Cherokee (4JYB634) sitting unburned in a driveway of a burnt house. Everything else burned.
5:20 pm Friday - Ranger Al is in Cedar Glen Right now. I'm talking to him on the phone. I will have an update on homes in a few minutes.
I must apologize about the emails folks. I haven't got many out since we've been working on the burned homes update. I am really backed up. 423 emails waiting to be answered. I'm supposed to take my kids Trick or Treating in an hour. Things are not looking good for that. I have a house I can go to if I choose. The thought of the 90,000 who don't have that ability will keep me working. I will stay here and continue updating. If anyone sees a 5 year old Pink Witch, a 7 year old Ninja Vampire and a 2 year old Ghost knock on their door, tell them that their dad say's hi and he loves them.
Stay out of the Big Bear Area. The fire is close but is being kept back by the weather. Please Evacuate.
Email notice- I would like to ask everyone to please only email me if you have a real important question or comment. I'm not able to give information about Big Bear or Running Springs or Status of burn areas if I am busy answering the same questions over and over. I don't mean to say that anyone is not important but at this point I must prioritize. I am going to list not vital questions with their answers here.
| | |
| --- | --- |
| VOE | VOE area is safe. There were no fires. Reportst that homes burned there were actually in CCP. |
| Gregory | The whole Lake Gregory Area is safe. Ranger Al lives there. It never stopped being the safest place on the mountain. |
| Cedar Pines Park | Homes right off |
| North Shore | The North Shore North of the Dam is safe. The fire threatened the hospital but didn't burn any structures. This includes Grass Valley and the Country Club area. |
| Blue Jay | Blue Jay and Agua Fria is Safe. Reports that Jensen's or the Ice Rink burned are false. |
| Cedar Glen | Cedar Ridge area didn't burn with Cedar Glen. Hook Creek road West of Deep Creek Camp Road didn't burn. The business area of Cedar Glen didn't burn. |
| The Village | The Arrowhead Village Area is fine. |
| Villas | The Arrowhead Villas is fine North of 18. |
| Twin Peaks | Only one home burned in a freak accident on Hwy 18. Read more about that in the notes below. |
| Running Springs | Fires are being battled still. I have no info on specific addresses yet but I haven't heard of any burnings. |
| Green Valley Lake | I haven't heard of any burnings in the area. I believe the fire isn't near at this point. |
| Arrowbear | I haven't heard of any burnings in the area. I believe the fire isn't near at this point. |
| Big Bear | Watch out- Get out, the fire is coming. |
4:27 pm Friday - Here is a report on the Arrowhead Villas / Crest Park Area
Arrowhead Villas. We traveled down Arrowhead Villa Rd, Around all the side streets and up and down Kuffel Canyon. No homes burned.
Crest Park Area- South of 18 West of 173 Near the Park/Campground GPS 34° 13.74 N 117° 12.12 W
Burned
Not Burned
Crest Park Road could be called Lower Crest Dr?
All homes on the east side (even number addresses) Cant pick out addresses

24812

27813

Marked 84 "harts"

Yellow house (now red due to flame retardant) Marked "Desire"
3:55 pm Friday- Trick or Treating in Redlands. Starting at 5pm tonight at the LDS Church on Pioneer Street in Redlands for evacuees.
3:27 pm Friday- Crestline Village Water Company reports no damage to any of their system.
2:15 pm Friday- Skyland area in Crestline update- Homes burnt. Sorry it took so long to get this info to you. It might be hard to read. It's a mess up there. Trees are down everywhere so we couldn't drive in but here is what we could get.
GPS of burn area- 34° 13.91 N, 117°16.99 W, 34° 18.83 N, 117°17.02 W, 34° 13.86 N, 117°17.10 W
Burned
Not Burned
Neptune
All houses on dead end section
1147
1156

Green house- couldn't see address
Saturn
1188 - Ford Van burned in front
1185 and house across from it
1197
1194
1188
1166
1178 -marked private road

1141 Might be on Skyland
1158 might be on Jupiter (Grey with red trim)
Jupiter
looks fine
Rockview
4 houses east of 24127 (3rd house garage ok, house burned- tan)
24169
24127
24187

Greatview Dr
24347 next to green water tank
1 house west of 24347

1 house West of 24571 right at intersection of Greatview Ln

24381
24365
Everything east of 24381 to the dead end except for the one listed on the intersection
Greatview Ln
24583
24653
24571
24613
24625
Crest Forest
24719 - house ok 15 of 30cars destroyed

24737

24757
More info coming from Rockview Area.
Stay watching if this is your area. more houses coming in.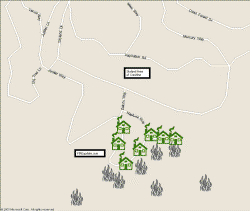 2:00 pm Friday- CNN reports that it might be Saturday November 8 before residents are allowed to return. I have no confirmation on dates yet. I'm hoping its sooner. Over 90,000 people away from their homes. My friends and family are among you. Try to keep spirits up. I am trying too. The worst part is the not knowing whether you have a home to go home to. Many of you have found this site useful for detailed information but for the most part, people have to rely on TV news. Let's do two things. Let's let the Media know what we need to hear or lets get them to tell people about this site. As long as people get the info.
Cedar Glen- We have been trying to figure out how to best help those in Cedar Glen. Address Checking is next to impossible in that area because we can't see street names or addresses due to the fire. So this is the plan. Ranger Al is armed now with a GPS device. He is going to give us the GPS coordinates around the burn area along with address's of all the homes in the burn area that are still standing. Hopefully this will be the best way to accurately display the destroyed homes.
Running Springs- Firemen are actively defending RS. School is fine.
Wow, this is getting to be a real long page. hmmm. I think it needs a reorganization. I think I should combine all my address that burned into one area as well. Hmmmm. Decisions decisions, answer more emails or reorganize.
1:45 pm Friday - If you are here for the first time please read this column before you email me. I just got another 150 or so emails. I am answering as fast as I can. I'm backed up with over 300 now. I'm just one guy answering these. Don't hate me if it takes me hours and hours to get back to you. Please read this information first!!!
I just heard there are people contacting the Tonight Show to try to get Ranger Al on as a guest. LOL.
1:00 pm Friday - Reports that fires near Hesperia are controlled. There are a few small towers of smoke coming from the back side of the mountain but nothing big.
12:55 pm Friday - The Church of Jesus Christ of Latter-Day Saints has local "Trunk" or Treats set up at their local buildings for all those evacuees that would like to take their kids trick or treating. They are also organizing such events in the high desert and San Diego areas. I will post information on these as I get them.
12:30 pm Friday - A lot of emails want to know about Blue Jay. Blue Jay is safe. Rumors that Jenson's and the Ice Castle burned down are totally false. North Shore area and Golf Course area is ok too.
12:15 pm Friday - No worries about gas. Ranger Al has 100 more gallons. Thank you for all those who were willing to donate.
Cliffhanger update - Ocean View Drive- The addresses listed are standing but 2 houses east of 25008 have burnt as well as the house across the street from 25008. Also the house across the street from 24988. 1 house east of 24929 burnt. The house on the west end of Ocean View and Crest Forest Drive is burnt. (Corvette burned in the driveway) I must repeat the addresses listed 25008, 24988 and 24929 are still standing as well as any home that doesn't fit the descriptions I've listed. I wish I could be more specific but even digging through the rubble, Specific address can not be found.
12:03 pm Friday - A lot of people are trying to get up the back side of the mountain. Traffic is thick up the Cajon pass. The roads are all blocked off and they are turning you away. Just wanted to save you a trip if you were thinking of trying it.
Ranger Al says seeing trees that are Black on bottom and White on top from frost is really unique. We will try to get pictures soon.
Back fires and fire breaks are actively being made in Running Springs.
Big Bear- Its getting close.
11:11 am Friday- I have a thing with my wife to think of her every time I see the time as 11:11. Took a quick second to call her. Now I'm back to the emails. 250 of them. Please be patient.
Ranger Al is actively viewing homes in the cliffhanger area. I will report as soon as I hear from him. He then will head to Arrowhead Villas and down into the burn zone.
10:45 am Friday Morning - TWIN PEAKS NEWS - I know everyone's been wanting to know. This is the scoop. Do NOT get worried and read this whole paragraph. A home at 25706 Hwy 189 in Twin Peaks has burned. BUT......... It looks like a whole separate fire. There is not any other homes or even forest burned near it. The rest of Twin Peaks looks fine.
10:20 am Friday Morning - My inbox is backing up to 200 right now. I am typing as fast as I can. I'm trying to keep the website updated as I do this. Please keep your email to a minimum. It is taking me a long time to read the emails that are 3-4 paragraphs long. Also be as specific about property as possible. I do know a lot about the area but just telling me a street name is hard to understand. Each town up in the mountains can have that same street. I'm really sorry if it takes me a long time to reply. I am only 1 guy. :) Speaking of which, you may want to listen to KFI am 640 at noon. You might recognize the guest.
10:10 am Friday Morning -I received information for any members of the Church of Jesus Christ of Ladder-Day Saints that are evacuated from the mountain area. Services will be held at the Northpark Building in San Bernardino at 1pm on Sunday. Any other organizations that have similar information can contact me at admin@fireupdate.com.
9:37 am Friday Morning - The fires are being beaten by firefighters in Running Springs. I believe the structures including the Cedu schools are safe.
More info about CPP- Just got back from a visit there. 743 sandhill and the home across the street (couldn't find address) have burned down. This is not a recent fire but we were unable to confirm this in our visit yesterday.
9:25 am Friday Morning - I've been asked a lot about the status of other towns. Arrowbear, Green Valley Lake, Angelus Oaks and others. For now these areas are safe and I haven't heard about any burning. I will continue to update. I just answered 30 emails but got 80 more. :) Fun Fun.
North Shore- If your home is on the North Shore of Lake Arrowhead please do not email me. Homes on that side of the lake are safe.
All dangerous fires are away from CPP, VOE, Crestline, TP, RF, Blue Jay, Lake Arrowhead & Cedar Glen.
Running Springs- Fires are very close to being under control here. If the weather keeps up, we will win this one.
Down the Mountain- Areas like Yucaipa at the base of the mountain are justifiably being warned but I don't believe there is any imminent danger.
8:30 am Friday Morning - A big thank you to those who started to call me at 5am. It'll make me think twice about ever publishing my cell phone again. I guess I'll sleep sometime next week. 139 emails waiting for me when I arrived here at the office, 8 of which included viruses. :) I have to count my blessings, I still have a house. K, on to bigger things.
Running Springs Front- Firemen have kept the fires down overnight. The weather being a huge help yet still an obstacle to the firemen. I'm sure you all know what I'm talking about. If you've lived on the mountain for even a small amount of time, traveling around the mountain in the fog can be challenging especially for people who don't know the mountain very well. There are still some hot spots around RS but the big uncontrollable "Wall of Flame" is no where to be seen.
Big Bear- Fire is only about 5 miles west of Big Bear right now. Let's hope the weather can slow it down long enough let us prepare. Good news, we may be up for one of our first big snow storms of the season! Wow, what timing for these people in Big Bear.
Hesperia- From what I've heard there are still some fires around the area. I will find out more and let you know. On to my morning research.