Wednesday, October 24, 2007 - 11:14 PM - INLAND EMPIRE
2003 OLD FIRE COMPARED WITH 2007 SLIDE FIRE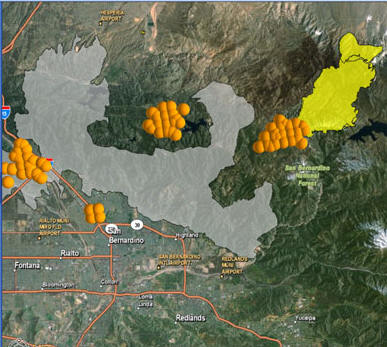 Wednesday, October 24, 2007 - 11:11 PM
Fire Evacuation Surpasses Katrina
San Diego County Sheriff Bill Kolender says more people have been evacuated because the county's wildfires than were evacuated from New Orleans during Hurricane Katrina.

He urged residents to remain patient until they can safely be allowed to return to their homes.

While more than 150,000 evacuees have been allowed to return home, Rancho Santa Fe has not been one of the communities declared safe yet. Many anxious residents have been trying to get past the roadblocks, said Rancho Santa Fe fire authorities.

"We can't let people in yet, there's live wires on the ground and hot spots still burning," a spokeswoman said.

By tomorrow morning, Rancho Santa Fe fire plans to have a better assessment of which areas can be lifted from mandatory evacuation.

All areas affected by the nearly 200,000-acre Witch fire have started their own assessments.

Authorities lifted the evacuation notices for the communities of Hidden Meadows and Mountain Meadows at 6:15 p.m.

Wednesday, October 24, 2007 - 10:35 PM - SAN DIEGO
New Maps, Videos and a 2nd Burn Report.
Wow that was a short post. I put all the info on the other pages. Maybe I should put a picture so the post doesn't look as small.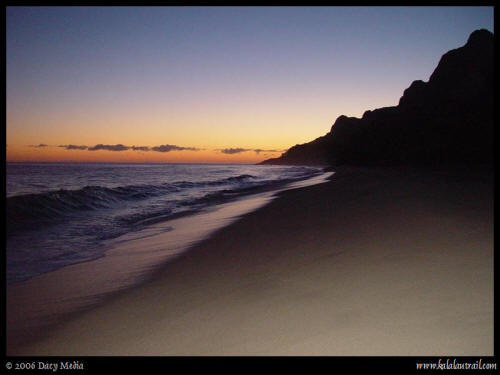 There. OK, it's not San Diego but it's a cool photo. I took that on Kalalau Beach in Kauai. It's so stressful these days. Let's all take close our eyes and take a short vacation to Hawaii.........OK that's enough! Back to work!
Wednesday, October 24, 2007 - 10:06 PM
For those who are wondering about the fate of their homes. Here are some things you can do while we wait this miserable wait.
1) Call Home. (If your answering machine picks up, at least it didn't burn)
2) When the sky's clear up, check Google Earth. Google usually doesn't update their satellite photos but once every long while. They are updating some areas in So Cal every two hours or so. You might be able to see if your house still stands.
3) Watch our not guaranteed, but not proven wrong yet Burn Reports.(Links to the right, I mean left)
4) Wait until the evacuation orders are lifted.
Wednesday, October 24, 2007 - 9:55 PM - INLAND EMPIRE
I have updated the IE Stats page. <----Over there. I'm so lazy now days. I could have easily made that a link but i didn't feel like it. OK, OK I'll do it. Here.
The San Andreas League has canceled its high school football games that were scheduled for Friday, San Bernardino Cajon athletic director Rich Imbriani said, because of air quality issues from the fires burning in the San Bernardino Mountains.

RimoftheWorld.net is reporting: The Slide Fire is now 16% contained, according to the US Forest Service. At least 200 homes have been lost to the Slide Fire and over 100 homes to the Grass Fire. Residents of Cedarpines Park and Valley of Enchantment can obtain a limited pass to leave the mountain and return from the CHP checkpoint at Highway 138 and Highway 173, near the Silverwood Lake Dam. This pass is only for residents who have remained. The pass is for short periods of time and cannot be used overnight. Also, if the evacuation order were to be upgraded, those who have left would not be allowed to return.

Earlier, the western edge of the Slide Fire has crept down toward Hook Creek, well to the east of Cedar Glen. Local firefighters quickly extinguished the flames, according to witnesses.

Firefighters worked tirelessly to successfully save two camps from the flames near Green Valley Lake. Both the Calvary Chapel Camp and the Cedar Crest Camp were saved. Fire crews along with 12 engines and two bulldozers kept the flames at bay.

As of 4 PM, fire officials report that the Grass Fire is 30% contained and the Slide Fire is still at 0%. The Grass Fire has burned about 1,000 acres and was primarily burning within its perimeter today with little expansion. The Slide Fire continues to grow and has burned just over 10,000 acres. A volunteer firefighter who fought the blaze in Green Valley Lake and Running Springs said that for every one house there were unable to save, firefighters managed to save five. The fire has burned down Highway 330 to near the middle passing lane and 1N09.

A number of residents have been reportedly hiking up to reach the mountain communities or trying to use unauthorized roads. Please remember that this is a dangerous fire and can change rapidly. In 2003, a resident died while trying to hike up from Silverwood Lake after falling into a ravine. Please give law enforcement and fire officials the time and space to ensure safety and protect property.


Wednesday, October 24, 2007 - 9:35 PM - SAN DIEGO
I've updated the San Diego stats page. Check there for the latest info and details.
County officials say they have reopened several areas that had been under mandatory evacuation.

But they don't have a master list that would allow residents in those areas to know if their specific street has OK'd for their return.

The county is directing people to this evacuation map, which highlights reopened areas in green. The county's map does little, however, for those looking to find their streets.
Freeway closures in San Diego County:

Interstate 15, off ramps to Mission Road/Mission Avenue (North Escondido)
Interstate 15, off ramps to W. Bernardo Drive/Pomerado Road (Rancho Bernardo)
State Route 67, from Slaughterhouse Canyon Road to State Routes 78/79.
State Route 78, from San Pasqual Valley Road to Santa Ysabel at Route 79
State Route 79, between Route 78 and Route 76
State Route 76, from Pankey Road to State Route 79.
State Route 94, from Steele Canyon Road to Forrest Gate Road.
State Route 188 Tecate Port of Entry.

Wednesday, October 24, 2007 - 9:22 PM
I have TONS of email asking about specific houses. I am posting all the information I know on this site. Check the Burn Reports <---Over there for information I know. As I get more information I will post there. I will post new additions at the top until I have time to reorganize it into a more readable format.
Thank you to those who donated some $ for server costs. It is appreciated. It always surprises me how much an extra 100,000 hits can cost.
Here's the general stuff. More details will come as I sort it out.

San Diego County
Witch Fire – 196,240 acres – 20% contained
Poomacha Fire – 35,000 acres – 10% contained
Rice Fire – 9,000 acres – 20% contained
Harris Fire – 75,000 acres – 10% contained
Horno/Ammo Fire – 10,000 acres – 40-50% contained
Wilcox Fire – 100 acres – 100% contained
Cajon Fire – 250 acres – 100% contained
McCoy Fire – 300 acres – 100% contained
Coronado Hills Fire – 300 acres – 100% contained

Los Angeles County
Ranch Fire – 54,716 acres – 70% contained
Canyon Fire – 4,500 acres – 85% contained
Magic Fire – 2,824 acres – 100% contained
Buckweed Fire – 38,356 acres – 100% contained
Meadowridge Fire – 40 acres - 100% contained

San Bernardino County
Slide Fire – 10,152 acres – 0% contained
Grass Valley Fire - 1,100 acres – 30% contained
Martin Fire – 123 acres – 100% contained
Walker Fire – 160 acres 100% contained

Orange County
Santiago Fire – 22,00 acres – 30% contained

Santa Barbara County
Sedgewick Fire – 710 acres – 100% contained

Riverside County
Rosa Fire – 411 acres – 100% contained
Roca Fire – 270 acres – 100% contained

Ventura County
Nightsky Fire – 35 acres – 100% contained

Wednesday, October 24, 2007 - 9:04 PM
Sorry about the absence. I had a previously scheduled something to do tonight. I am back and I will update the site soon. I have about 100 emails to reply to as well. Look for an update really soon.
Wednesday, October 24, 2007 - 3:04 PM
I know this is not fire related but I'm going to the Inland Empires Largest Mixer tonight at the Ontario Convention Center. I'll have my laptop with me and will be updating the site from there. I'm going to update things on the site before I leave. I have a lot of emails to answer too. Please forgive me if I answer your email briefly rather than talking a lot. I guess it wouldn't be talking anyway. It's typing. Anyway. if you happen to be going to the Mixer, I'll see you there. (I'll be the one in the domino's pizza -looking shirt.) :)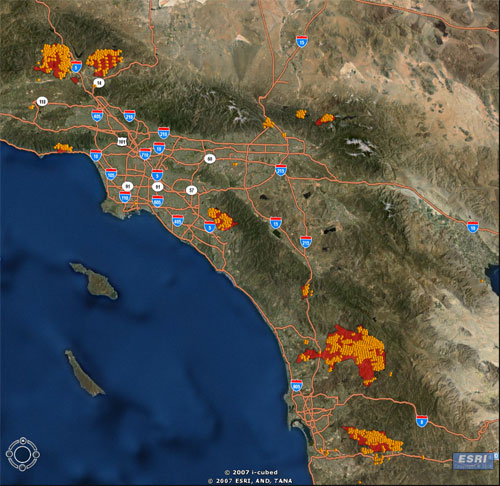 Wednesday, October 24, 2007 - 2:58 PM - SAN DIEGO
San Diego officials have reversed an announcement earlier today that 4S Ranch residents within city limits may return.

Now the city is saying that neighborhood is inaccessible because of continuing road closures.

Escondido has reopened two of its evacuated neighborhoods: Sonata and Sierra Linda, both east of Interstate 15 and south of Bear Valley Parkway.

National Guard troops are helping coordinate the move back in by residents. People must show identification proving they live there to get into the neighborhood.

People whose homes were destroyed or heavily damaged, however, will not be allowed to enter their homes.

Up to 40,000 people were evacuated from Escondido. People in other evacuated zones including the Lomas Serenas, Via Loma Vista, Mary Lane, Rancho San Pasqual and Hidden Trails areas may not return home yet.

But officials said they hope to get people back into the Rancho San Pasqual, and possibly the Lomas Serenas area that includes Summercreek homes, back home later today.

Escondido has a hotline at (760) 839-6262, where city residents can find out about whether their neighborhoods are open.

Twenty houses have been destroyed on Palomar Mountain, all of them on South Grade Road, Palomar Mountain Volunteer Fire Department Chief George Lucia said today.

Most burned as the fire raced up the mountain last night. At about 5:30 this morning, the wind changed direction and flames crested the top of the north and east face of the mountain, threatening homes all along Crestline Road, he said.

The majority of the 300 houses on Palomar are on that road, which winds along the top of the mountain.
Wednesday, October 24, 2007 - 2:55 PM - INLAND EMPIRE
Temecula and fire officials are holding an informational meeting tonight to brief residents on the wildfires.

While Temecula is near the Rice Canyon and Poomacha blazes, officials said the city itself is in no direct danger and no evacuations are planned. However, false rumors of evacuations have circulated as smoke lingers over town.

The meeting at 6 p.m. is at Great Oak High School, 32555 Deer Hollow Way.

A small vegetation fire reported about 12:20 p.m. on the hillside just west of Grand Avenue in Wildomar appeared to be under control within about an hour and a half, but the sight of the blaze brought traffic grinding to a halt on northbound Interstate 15.

Tankers and helicopters were dropping retardant on the seven-acre blaze. No homes are in the immediate area of the fire.
A Crestline man who fled his home because of fire earlier this week died today after collapsing at an evacuation center, officials said.

Daniel Carpenter, 36, died at Loma Linda University Medical Center shortly after 8:30 a.m., said San Bernardino County coroner's spokeswoman Sandy Fatland.

He collapsed at 7 p.m. Tuesday while at the Orange Show Fairgrounds in San Bernardino, the main evacuation center for refugees of the Slide and Grass Valley fires.

Fatland said Carpenter had a long medical history, and that his collapse from an apparent seizure is not being directly attributed to the fire.

To date, no deaths in San Bernardino County have been linked to the ferocious fires in the mountains, which have destroyed hundreds of homes.



Wednesday, October 24, 2007 - 2:45 PM - INLAND EMPIRE
Here's a map that someone put together of the Green Valley Lake area. The acuracy of the map could be 100% or completely wrong in every way. Maybe it's not even GVL. Maybe it just looks like GVL and is actually a lake in Billings Montana. I don't know. But here's the map: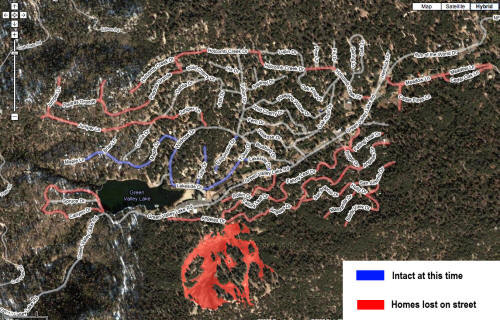 Wednesday, October 24, 2007 - 2:34 PM - SAN DIEGO
Horno/Ammo Fire
Camp Pendleton
San Diego County

The Horno/Ammo Fire has burned 6,000 acres since October 23. It is currently 10 percent contained. Camp Pendleton officials have announced the reopening of the following roads affecting traffic aboard and around Camp Pendleton: Interstate 5 (North and Southbound) and Basilone Road. Additionally, all gates have been reopened to traffic exiting and entering the base, with the exception of Fallbrook Gate, which is open to only incoming traffic. Only emergency vehicles are permitted to exit the Fallbrook Gate.

Camp Pendleton authorities have relocated the residents of one housing area, San Onofre 1 and 2, to San Mateo. That relocation, which affected approximately 800 family members, was a precautionary measure in light of the proximity of the Horno fire. Horno/Ammo Fire Information Line (866) 430-2764.

Wednesday, October 24, 2007 - 2:20 PM
Other Useful Websites: (If you hate me and want to go somewhere else)
Wednesday, October 24, 2007 - 2:16 PM - INLAND EMPIRE
LA Times is reporting: Amid worries of new blazes adding to the firestorm already afflicting the region, a man in Hesperia has been arrested on suspicion of arson, and police reported shooting and killing another arson suspect after chasing him out of scrub behind Cal State San Bernardino.
Law enforcement officials said today that they didn't know whether either of the men had started any of the more than a dozen large fires that have devastated Southern California in recent days, including the nearby Lake Arrowhead blaze. The brush fire in Hesperia was quickly extinguished by residents.


Wednesday, October 24, 2007 - 2:10 PM - SAN DIEGO
We now have two Burn Reports for San Diego. Check them out for lists of burned homes. The link is on the left. Left is <---- That way.
Highway 76 is reopened on both direction today, authorities said.

The city is allowing evacuated residents to return to their homes in west Rancho Bernardo, Rancho Penasquitos, 4S Ranch and Santa Luz.

These areas have been under mandatory evacuation orders that have now been lifted. The area boundaries are:
* south Rancho Bernardo Road (City Limits),
* west of Interstate 15,
* east of Rancho Santa Fe Farms Road
* north of Highway 56

San Diego Police say that Rancho Penasquitos residents who live north of state Route 56, west of Interstate 15, east of Rancho Santa Fe Farms, and south of Rancho Bernardo Road may return to their homes.
Wednesday, October 24, 2007 - 1:27 PM - SAN DIEGO
The preschool building at Potrero Elementary School burned Sunday as the Harris fire swept through the backcountry community on state Route 94, said Patrick Judd, superintendent of the Mountain Empire Unified School District.
Judd said school officials just learned yesterday that the building had burned. Two portable buildings at the school were also damaged. The main school building was unscathed, he said.

While the Rice fire is being fought on the border of Riverside and San Diego counties today, there is little chance the blaze will blast its way into Temecula, said Dave Shew, a Cal-Fire spokesman.

"We don't have the wind conditions present to push the fire into Temecula," he said this afternoon.

The Rice fire is at about 7,500 acres and has destroyed approximately 250 homes and buildings, according to Shew.

The fire is has forced authorities to evacuate Fallbrook's 40,000 residents as its been burning east of Gird Road and north of Highway 76 and on the east side of Interstate 15 in the Rainbow area.

Fallbrook residents will not be allowed back into Fallbrook for at least 24 hours, Shew said.


Wednesday, October 24, 2007 - 12:57 PM
I want to thank everyone out there for your constant stream of information coming to the site. When I get thank you's like this one, I feel the need to pass on the thank you to you guys for supplying me the information.
Thank you for your constant updates about the fires. I have family in both the mountains and the valley and appreciate your constant vigilance and updates. I now live out of state and my parents cannot be reached so I am so very grateful for your support. Please accept this small donation to help with the extra server costs.
-Kirk in Colorado
Oh yeah and shout out to Dave for bringing me some tacos for lunch so I didn't have to leave. Mmmmm. Tacos. :)
Wednesday, October 24, 2007 - 12:37 PM - INLAND EMPIRE
CA Dept of Fire Battalion Chief was on site at Camp Helendade in Running Springs this morning. Per his report, the Dining Hall, Lodge Bldgs, Upper restrooms and Ranger house are intact and still standing. Preliminary observation is that three structures were destroyed. The Pool House Bldg, New Handicraft Bldg and the Sports (Old Handicraft) Bldg are burnt to the ground. The fire apparently was a ground level fire with a few areas going up into the canopy of the trees. The Old Wisumahi area was hit hard and loss of trees in that area is massive.
Wednesday, October 24, 2007 - 12:34 PM - ORANGE COUNTY
This fire has burned 19,191 acres and is now 50 percent contained. The fire is burning at Santiago Canyon Road and Silverado Canyon Road in Irvine, Orange County. Highway 241 is closed from Santiago Canyon to Highway 133. Portola Parkway and portions of Jamboree Road in Irvine are closed. 3,000 homes are threatened in the communities of Silverado, Modjeska, Trabuco, Live Oak, Williams, Holy Jim, and Cleveland National Forrest. Nine homes and eight outbuildings have been destroyed. Four firefighter injuries have been reported. 598 people are assigned to this incident. The estimated cost of this fire to date is $1.5 million. Santiago Fire Information Line (714) 573-6200.
Wednesday, October 24, 2007 - 12:32 PM - LOS ANGELES
The Buckweed fire has burned 38,356 acres and is 94 percent contained. The fire started October 21 and is burning at Mint Canyon Road and Sierra Highway in Los Angeles County toward Magic Mountain. Evacuations have been lifted for all areas except Bouquet Canyon. Communities of Santa Clarita, Castaic, Mint Canyon, and Bouquet Reservoir are still threatened. A partial road closure for Sierra Highway north from Soledad Canyon remains in effect. The Old Road at Valencia Boulevard is closed. Vasquez Canyon is open to residents only. 15 homes and 17 outbuildings have been destroyed and three homes have been damaged. Three civilians and one firefighter have been injured. 1,157 firefighters are assigned including 213 CAL FIRE staff. The estimated cost of this fire to date is $2.5 million. Buckweed Fire Information Line (323) 881-2411
The Magic Fire has burned 2,824 acres since October 22 and is now 93 percent contained. 105 Los Angeles County firefighters are assigned to this fire. Magic Fire Information Line (323) 881-2411.



Wednesday, October 24, 2007 - 12:24 PM - SAN DIEGO
The Ammo Fire has burned 7,500 acres since October 23. It is currently 50 percent contained. I-5 southbound is closed at Basilone, northbound at Las Pulgas due to smoke and downed power lines. Areas 50 and 53 on Camp Pendleton have been evacuated. Ammo Fire Information Line (619) 590-3160.
The Witch fire has burned 196,420 acres and is one percent contained. Mandatory evacuations are in place for the community of Julian. Pine Hills is also threatened. 805 homes, 100 commercial properties, and 50 outbuildings have been destroyed. 375 homes, 75 commercial properties and 50 outbuildings have been damaged. 5,000 residences, 1,500 commercial properties, and 300 outbuildings are currently threatened. 12 firefighters have been injured on this fire. A CAL FIRE Incident Command Team is in command of this incident with 1,841 firefighters assigned. Wildcat Canyon is closed. Highway 67 is closed from Poway to Ramona. The estimated cost of this fire to date is $2.3 million. Witch Fire Information Line (619) 590-3160.


Wednesday, October 24, 2007 - 11:52 AM - SAN DIEGO
The California Highway Patrol advises that firefighters have requested that all northbound lanes of Interstate 5 be closed just north of Harbor Drive in Oceanside.
Although Ramona is under mandatory evacuation orders, residents remaining in the city are being advised to boil tap water or use bottled water for drinking and cooking until further notice, county officials said.

Wednesday, October 24, 2007 - 11:43 AM
In response to a request from state and federal officials, NASA today dispatched an aircraft equipped with sophisticated infrared imaging equipment to help firefighters battling the Southern California wildfires.

The "Ikhana," an unmanned aircraft, was launched at Edwards Air Force Base at 8:45 a.m., said Beth Hagenauer of the NASA's Dryden Flight Research Center.

The aircraft is carrying a thermal infrared imaging system that can peer through heavy smoke and darkness to see hot spots, flames and temperature differences, Hagenauer said.

Images are processed onboard, and then transmitted in "near real time" to help incident commanders allocate firefighting resources.

The remote-controlled aircraft is expected to fly over the major blazes in the Lake Arrowhead/Running Springs area today, and possibly into San Diego County. A second imaging flight may take place tomorrow, officials said.
Five local assistance centers are opening in coordination with the Governor's Office of Emergency Services and local governments.

The local assistance centers will serve as efficient one-stop sources for disaster relief services including information on how to replace records lost in the fires, file insurance claims and apply for assistance and housing.


Three local assistance centers will open Thursday and two additional centers will open on Friday. The hours of operation for the centers are Monday through Friday 8 a.m. to 7 p.m., Saturday 8 a.m. to 4 p.m. and Sunday 9 a.m. to 2 p.m. The Rancho Bernardo-Glassman Recreation Center in San Diego will have extended hours Monday through Friday and will be open from 7 a.m. to 8 p.m. Additional centers will be opened in the region as needed.

The Governor's Office of Emergency Services, Employment Development Department, Contractors State License Board, Department of Insurance, Department of Veterans Affairs, Department of Motor Vehicles, Department of Public Health, Department of Social Services and other state and local agencies will be represented at the local assistance centers.

Below are the locations of the local assistance centers that will open Thursday morning:

Rancho Bernardo-Glassman Recreation Center
18448 W. Bernardo Drive
San Diego, CA 92127

Ramona Community School
1710 Montecito Road
Ramona, CA 92065

Fallbrook Community Center
341 Heald Lane
Fallbrook, CA 92028

Below are the locations of the local assistance centers that will open Friday morning:

Rancho San Diego-Cuyamaca College
900 Rancho San Diego Parkway
El Cajon, CA 92109

Castaic Regional Sports Complex
31230 N. Castaic Road
Castaic, CA 91384



Wednesday, October 24, 2007 - 11:34 AM
I love getting emails like this. Thank you all. I'll file them away with last times emails.
Thank you so much, there is no one else doing as amazing job as you are. You are invaluable to us poor lowlanders wondering what the heck is going on. My prayers are with you for rest, wisdom and endurance.
- Nancy
Hey man – I just wanted to let you know that I think what you are doing with this site is great. Even though none of it is "official confirmed" – regardless it is a HUGE help to know this stuff. I live in canyon country, and on Monday night, when the new fire on Soledad and Sand Canyon broke out on the Mobile home park, I wish I would have known about this site then. That fire broke out so late at night, that there was no news channels reporting on it. I live up the hill from that mobile home park, my house is set back against a mountain, along with 100's of other homes. And had that fire made its way up the hillside a little bit we would have been evacuated for sure. I just wish I would have known about you site then, cause I could have been checking the website instead of channel surfing all night long, trying to catch a quick update on it.
So I just want you to know, that what you are doing is a great service to the southland community, and I am sure everyone that reads it, appreciates it a lot. I know I do!!!
Keep up the good work man!!!
- Jeff (Calabasas)
Wednesday, October 24, 2007 - 11:26 AM - INLAND EMPIRE
RimoftheWorld.net is reporting:
According to John Miller of the US Forest Service, the westward advance of the Slide Fire stalled overnight. Flames got as far west as Heaps Peak between the waste transfer station and the radio towers. The front to the south of Green Valley Lake has moved toward Highway 18 and Snow Valley. It was less than 1/4 mile from the highway.

In the Running Springs area, catastrophic fire activity burned through Fredalba and Smiley Park with widespread losses. The fire burned along the southern edge of Running Springs, eastward, to the Rimwood Ranch area. In Green Valley Lake, only 80 of the nearly 1,200 homes were destroyed, according to news reports.

Fourteen helicopters are staging at Big Bear Airport and have begun heading to assignments within the fires. Additionally, air tankers, including Tanker 910, are expected to provide a continual aerial bombardment of fire retardant at five minute intervals. Sheriff's Officers, when they are not checking on looters, arsonists, and gawkers, are canvassing the area reporting any spot fires that are nearing homes. Today is the day the fires will feel our retaliation.

Wednesday, October 24, 2007 - 11:25 AM - SAN DIEGO
This is latest Harris Fire information this morning from the California Department of Forestry and Fire Protection:

Firefighters say their objective today is to get the Harris Fire under control.

They plan to conduct search and rescue efforts in the fire area.

Geographically, they hope to keep the fire south of Skyline Truck Trail; south and east of Lyons Valley Road; east of Otay Lakes Road and the community of Jamul; west of Harris Ranch Road, north of Tecate and the international border.

Acres burned: 73,000

Currently under threat are Lyon's Valley, Lawson's Valley, Deerhorn Valley, Honey Springs Road, Four Corners.

Overnight the fire was held at the edge of Chula Vista and San Miguel.

Onshore flow has moved the fire to the northeast threatening structures along state Route 94 from Jamul to the east and Jamacha to the west. Lyons Peak was burned and the fire jumped perimeter control lines in the area.

Containment: 10 percent

Damage: $2.5 million

Injuries: 25, including 4 firefighters

Fatalities: 1

Evacuated: 4,500

Estimated containment: Oct. 31; full control in November.

Information Line: (619) 590-3160

The Witch and Poomacha fires have combined to form a 200,000-acre blaze, with hot spots heading east towards Julian, north to Palomar Mountain and northeast into the Anza-Borrego Desert State Park, according to the San DiegoCounty Office of Emergency Services.
Wednesday, October 24, 2007 - 11:16 AM
Well, it's done for now. If you didn't notice the site should be running faster now. I just upgraded it to handle the enormous load I'm putting on it. We should be good for a while. As it gets even busier, I'll need to upgrade more. Last time we were getting over a million server hits per day. That's not cheap! Anyone who wants to donate a little bit toward the cause you are more than welcome.
Now that that's over I can get back to regular updates. A new post momentarily.
Wednesday, October 24, 2007 - 11:00 AM
I am currently trying to upgrade servers to get the site running faster again. I will get back to you shortly. In the meantime:
Fire statistics from the Office of Emergency Services in Sacramento as of 8 a.m. today:

18 fires burning

426,236 acres burned

8,884 firefighters on site

40 reported injuries

3 reported deaths

1,664 structures destroyed

25,153 structures threatened

51 shelters open with a population of 22,195

321,000 evacuees

There are aircraft and personnel from the following states: Nevada, Arizona, Oregon, Colorado, Washington, Wyoming, North Carolina and New Mexico.
Wednesday, October 24, 2007 - 10:17 AM
Well, we have actively have over 10,000 people regularly viewing this site and it's slowing down my server. Publishing is becoming a problem. I'm looking into getting a bigger server right now. I will keep publishing as much as I know all day.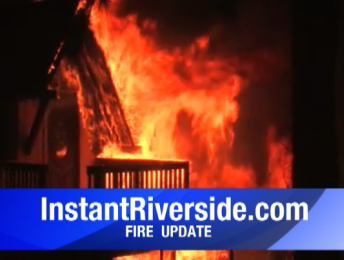 InstantRiverside.com is a great resource for fire information and video. Check them out.
Wednesday, October 24, 2007 - 10:05 AM - SAN DIEGO
pe.com is reporting: Rice Fire consumes 250 homes and buildings
With ashes falling from the sky like snowflakes and a smokey-haze blanketing the air, hundreds of firefighters gathered for this morning's briefing concerning the Rice Fire near Fallbrook.

The crews met at the downtown Fallbrook fire station which sits about two miles away from the flames of the Rice blaze.

The fire has consumed 7,500 acres and about 250 homes and buildings, said spokesman Dave Shew.

The fire is burning south of the Riverside County line, east of Gird Road and north of Highway 76 and on the east side of Interstate 15 in the Rainbow area.

A key focus today, Cal-Fire officials said, is to prevent the flames in the northwest front from spreading and keeping it from the Willow Glen Road and Mission Road areas, fire officials said.

Fallbrook remains under a mandatory evacuation order, said Shew.

The Bonsall area and communities south of Highway 76 were mistakenly given orders to evacuate around 3 a.m., he said.

He recommended that anyone who evacuated from Bonsall should stay out of the area because of the potential dangers from damaged utility poles and other fire-related hazards.

Fallbrook residents will not be allowed back into Fallbrook for at least 24 hours, Shew said.


Wednesday, October 24, 2007 - 7:55 AM
I have updated all the stats pages to reflect information from this morning. Also I've updated a little on the Burn Reports. I'm feeling lazy this morning so I'm not going to link from this post. You'll have to move your mouse all the way over to the far right of this page and click in the menu. :)
I got a nice email from a nice lady yesterday thanking me for offering the information that I do. I can't believe everybody doesn't. The way I see it is as long as everybody knows that the information is 'not confirmed' up front then there is no miss-information being written. Everybody wants to know the information and the media companies know that information but are not saying it because they don't want to be wrong. I'll just admit it could be wrong up front and then I feel good about spreading the info. Just put the words, "I heard or read" in front of everything you see on this site. :) When I do have something confirmed, I will mark it as confirmed.
Wednesday, October 24, 2007 - 7:34 AM - LOS ANGELES
Grim stats as the Malibu Fire winds down
Headed into Day Four, the 4,500-acre Malibu fire was about 80 percent contained today, with no active flames reported.
Six homes, including a landmark castle and at least three oceanfront homes, the Malibu Presbyterian Church and five businesses in the Malibu Colony shopping center were destroyed in the early hours of the blaze, which roared out of Malibu Canyon before dawn on Sunday.
All together, 22 structures were damaged or destroyed. The fire, which was burning east from Malibu Canyon, was halted before reaching Las Flores Canyon.
How the fire started has not been determined, but it is believed to have been sparked near Malibu Canyon and Piuma roads by power lines blown down by Santa Ana winds that were clocked at hurricane force in the area.
Some canyon roads were reopened today, and some of the roughly 1,500 evacuees were being allowed to go home.

No serious injuries were reported in connection with the fire.
Wednesday, October 24, 2007 - 7:22 AM - INLAND EMPIRE
Press Enterprise it reporting:
Slide Fire remains dormant overnight
The Green Valley Lake area in the San Bernardino Mountains remained relatively unscathed from the Slide Fire, Division Chief Art Bishop of the Apple Valley Fire Protection District said this morning. Bishop is helping coordinate structure protection in the fire.
Bishop also said that a couple of homes were destroyed by fire overnight in Running Springs but the fire remained largely dormant between sunset and sunrise.
Mountain highways remain closed today due to fire
All mountain Highways west of Big Bear Dam remain closed today as firefighters battle the two raging wildfires in Running Springs and Lake Arrowhead.
Highway 18 is closed from 48th Street in San Bernardino to the Big Bear Dam. Highway 138 is also closed at Highway 173 northwest of Silverwood Lake. Highway 330 is closed from Highland Avenue to Running Springs.
Here's a rundown of school closings and advisories today
CLOSED TODAY:
Rim of the World Unified School District. 909-336-2031 or www.rimsd.k12.ca.us
San Bernardino City Unified School District, 909-381-1100 or www.sbcusd.k12.ca.us
San Jacinto campus of Mt. San Jacinto College. 951-487-6752 or www.msjc.edu
San Bernardino Valley College. 909-382-4000 or www.valleycollege.edu
Highland-area schools in the Redlands Unified School District:
Beattie Middle School, Highland Grove, Cram and Arroyo Verde elementary schools. 909-307-5300 or www.redlands.k12.ca.us
CHECK BEFORE GOING:
Cal State San Bernardino, 909-537-5999 or www.csusb.edu
San Bernardino County Superintendent of Schools Community Day Schools: Bob Murphy, 8th Street, Highland, Tri-City and Youth Justice Center, 909-888-3228
San Jacinto Unified School District. 951-929-7700 or www.sanjacinto.k12.ca.us
Mt. San Jacinto College classes in Temecula, Banning and Beaumont. 951-487-6752 or www.msjc.edu
Beaumont Unified School District. 951-845-1631 or www.beaumontusd.k12.ca.us
Hemet Unified School District's Cottonwood Elementary in Sage and Hamilton School in Anza. Parents will be notified by an automated phone system . All other Hemet schools will be open.
Wednesday, October 24, 2007 - 7:18 AM - SAN DIEGO
Witch Creek and Poomacha fires merge
The giant Witch Creek Fire in northern San Diego County has merged with the smaller Poomacha Fire (pronounced Pooh-ma-kah), creating a monstrous fire line.
Together, the two fires have blackened nearly 200,000 acres and prompted the evacuation of thousands of North County residents.
County officials with the Office of Emergency Services say at least eight homes were destroyed overnight in the La Jolla Amago area.
Half million remain evacuated in San Diego County
More than a half-million people remain evacuated from their homes this morning in San Diego County as firefighters work to get a handle on the major wildfires still burning.
About 10,000 people spent the night at Qualcomm Stadium. Another large contingent was calling the Del Mar Fairgrounds home.
The latest fire to plague the county is burning on Camp Pendleton property. The fire - apparently a back fire that grew out of control - has been burning on both sides of Interstate 5 overnight, prompting the CHP to close the freeway. Drivers were being diverted to Interstate 15.
Metrolink service through the area has also been suspended.
More evacuations ordered this morning near Fallbrook
Mandatory evacuations were issued for the areas of Bonsall and Deluz near Fallbrook this morning as several wildfires continue to burn in San Diego County, south of Temecula.
A 6,000 acre fire at Camp Pendleton has closed northbound Interstate 5 and Highway 76 at the interstate, after flames burned to the highway and the border patrol checkpoint. DeLuz was evacuated at the marine base's northwest border.
In both Bonsall and Fallbrook, the communities are enveloped in a thick haze of smoke and snowing ashes.
Where will the Chargers play on Sunday?
The San Diego Chargers boarded a plane for Phoenix on Tuesday night, not knowing where or when they'll play their next game.
According to broadcast reports, the team's game against the Houston Texans could be played in Los Angeles, Phoenix or in Texas.
The team left town because of the wildfires that chased many in the organization out of their homes, fouled the air and left Sunday's scheduled home game against the Houston Texans in doubt.
Camp Pendleton fire closes I-5, impacting I-15 and Ortega Highway
Wildfires at Camp Pendleton prompted authorities to close a section of Interstate 5 and evacuate the community of De Luz on the Marine base's northwest border.
I -5 was closed overnight between Highway 76 and Cristianitos Road due to the fires, according to Lesley Kirk, a county spokeswoman.
Traffic was being diverted to I-15 using Highways 78 or 76 and the Ortega Highway. Congestion was expected to be heavy on the alternate routes.
Metrolink service at the San Juan Capistrano, Oceanside and San Clemente stations was temporarily suspended due to the fires, said Denise Tyrrell of the regional rail service.
Wednesday, October 24, 2007 - 6:45 AM
Good Morning. I'll be posting new information soon. I woke up to 50 emails. I'll try to return them as fast as I can. Although it's important to know that I post all information that I get on this site. I'm not holding back. If I've heard it, I'll post it. Asking me for specifics on a certain house that I don't have listed in the Burn Reports means that I don't have that information yet. I'll post it when I get it.
Fires are wreaking havoc with the U.S. Postal Service
The post office in Lake Arrowhead has been destroyed and at least 25 other post offices in San Diego County are out of operation due to the fires ravaging the region.
U.S. Postal Service officials said alternative delivery plans are being drafted.
Wednesday, October 24, 2007 - 1:17 AM
Since I didn't sleep at all last night I'm going to sleep for a bit and catch you all in the morning. I updated maps, burn reports and stats just now so it should be pretty accurate for a while. :) See you in a few hours.
Wednesday, October 24, 2007 - 12:39 AM - SAN DIEGO
I've posted a new Burn Report for San Diego here. Again, this list has not been verified. I am only posting it due to popular demand. We all want to know as much as possible. Why should Media companies hide information?
Wednesday, October 24, 2007 - 12:24 AM - INLAND EMPIRE
Valley of Enchantment - Firefighters and law enforcement are investigating reports of a possible arsonist between Camp Seely in Valley of Enchantment along Highway 138. According to reports, a witness saw and individual trying to start a fire, then flee. It appears that the individual was unsuccessful in the attempt. Deputies made an arrest at Highway 173 and Los Flores Ranch near Silverwood Lake at 9:19 PM.
In Running Springs, firefighters are in a pitched battle to save homes around Live Oak Drive.
New homes have been added to the Burn Report. Remember that the burn report is only hearsay at this point. It may or may not be true. Information was gathered from emails sent into me as well as from other websites.


Wednesday, October 24, 2007 - 12:18 AM - INLAND EMPIRE
More than 300 structures burned, flames moving toward East Highlands
More than 300 structures have burned and 10,000 are threatened by the Slide and Grass Valley fires, fire officials said at 9 p.m.
East Highlands Ranch residents were advised of a voluntary evacuation order as the flames burned behind a ridgeline to the north.
More than 500 firefighters were battling the Slide Fire, which has burned 4,000 acres in the Running Springs, Green Valley Lake and Fredalba areas. There are no predictions for containment.
Mail for residents of nine San Bernardino County communities affected by wildfires is being held at at the former Norton Air Force Base in San Bernardino.
A temporary post office, at 195 Del Rosa Ave., will be open from 1 to 4 p.m. today, and from 10 a.m. to 4 p.m. Thursday and Friday. Residents must have proper photo identification to pick up their mail. Local postmasters and volunteer employees from area post offices will staff the temporary facility.
Mail is for the following ZIP codes: Blue Jay 92317, Cedar Glen 92321, Crestline 92325, Lake Arrowhead 92352, Rimforest 92378, Running Springs 92382, Skyforest 92385, Twin Peaks 92391 and Green Valley Lake 92341.